Comments from some of the people using Bentley rams. We are hugely grateful to everyone who has supported us:
If you would like to submit your feedback, we would love to hear from you.
George Eaton runs a mixed farm in Buckinghamshire, comprising of Arable, cattle and 600 ewes. George has had a long-lasting focus on conservation and the ability of balancing that conservation with an efficient farm business. More information can be found at www.rectory-farm.org.uk
The sheep enterprise consists of:
North Country Mule shearlings being bought in annually and put to Bentley Suffolk rams with Maternal figures in the top 5% of the breed.
After culling out the bottom end, all the Suffolk X ewe lambs are retained, with 1/3 staying at Rectory Farm in a January lambing flock.
The majority of the Suffolk X shearlings are sold at the Thame Sheep Fair each year. George has won the cup for best Suffolk X Mule shearlings in 2019 and achieved the top price in 2020.
All the Suffolk X wether lambs are finished off grass with no creep feed.
George has been buying Bentley Suffolk rams for many years and says "We value the relationship we have built up with Charles and Matt, they understand what we are looking for in our rams. We like the focus they have on the commercial industry and how they have focused on breeding rams for us and not the show ring. We have seen how the rams have progressed over the years and they are certainly more sparky now. This can be seen in the lambs too, with lambs born with vigour and very quick to get up and suck"
George will have another excellent batch of Suffolk X Shearlings available at the Thame Sheep Fair in August, all sire by top Bentley Suffolk rams with excellent Maternal performance figures.
Sam & Charlotte Clarke of Clarke Farming Partnership, run 1200 ewes on a 100% forage system. They also run an additional 1000 shearlings annually and have 60 pedigree cattle, made up of Aberdeen Angus & Salers.
"We run all the sheep on covers through the winter, transitioning onto stubble turnips at Christmas and then onto grass for lambing in March. We wanted rams that are suited to our forage system. We were predominantly using Texels before meeting Matt, but we could see the Bentley Suffolk rams would suit (and more importantly survive!) our forage only system."
"We've had 10 Bentley tups over the past 2 years and we are very pleased with them, they've been very good on their feet and held condition very well. As the rams were in such good order after covering our main flock at 60:1 for 2 cycles, we ran them with the ewe lambs when they had finished. The ewes scanned at 202% and the ewe lambs at 126%, so they were covering the ewes well."
"We also like the process of buying the tups direct as it's much easier to pick what you need. The ad-lib tea and biscuits Matt provides also helps!"
Sam Clarke – Clarke Farming Partnership
"We have been using Bentley Suffolk rams for over 50 years!
We enjoy buying direct from the farm as we always have a great selection to look through. The Bentley Suffolk sired lambs continue to grade very well"
P & J Evans & Sons
"Lambing outdoors, the traits I like most about the Bentley Suffolk rams are, survivability of the lambs, the ease of lambing and how quick they get up and suck! Bentley Suffolk sired lambs stood up to The Beast from East in 2018 better than the Lleyn's & Easycare's. We only assisted one single at lambing & never helped a lamb suckle, unlike traditional dopey Suffolk's.
We wouldn't entertain anything else for an outdoor lambing TerminalSire"
Tom Hall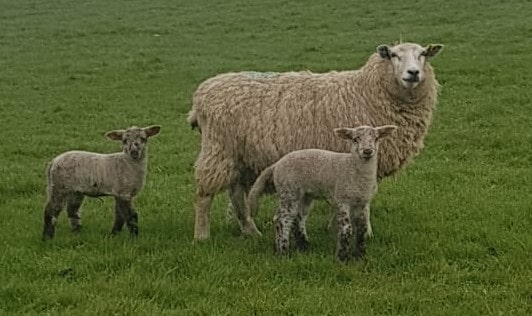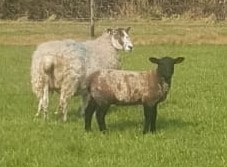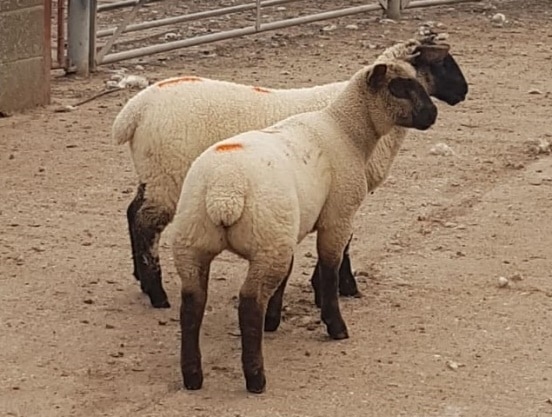 "One of the main reasons we use Bentley Suffolk rams is their long dedication to performance recording. Their high maternal figures are a great benefit when both selling our Suffolk X Mule shearlings, but more directly when retaining our own Suffolk X Mule shearling ewes.
The terminal traits also shine through, as we are able to finish approx. 90% of the wether lambs on grass alone"
George Eaton
"The Aberblack rams have really helped to improve our grading out of our Highlander ewes. Alongside that we are also able to finish lambs quicker compared to our previous terminal sire.
The Aberblack rams do look after themselves and are lasting very well!"
Glen Chapman, Harnage Estate
"Matt picked 2 Aberblack rams for us and so far we are very pleased. The 2 rams covered 230 ewes, with an excellent scan. The rams held condition well and have carried on growing since.
The lambs were all born outdoors and lambed very easily. The Aberblack sired lambs showed good survivability and are thriving now"
John Olphert
"I went up to the lambing field in the snow this morning and the Aberblack lambs are up and sucked, can't ask for more!"
Robert Bowen
"We have been solely buying Bentley rams for over 10 years now. They are Top EBV rams capable of covering high numbers of ewes and giving a tight lambing. The lambs that the Bentley rams are producing are fast growing and they are grading very well."
Recorden Farms